Look! I met Senator Rand Paul today!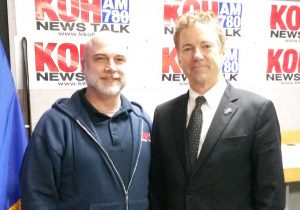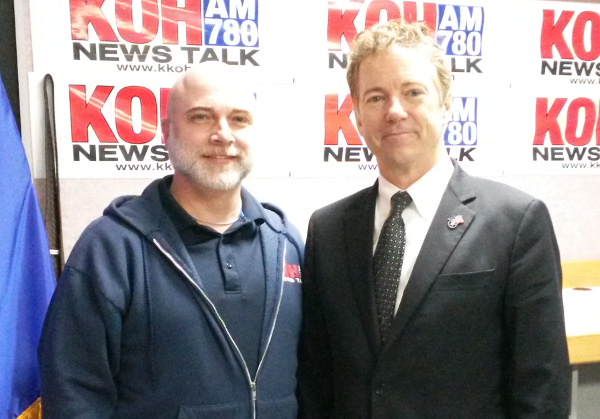 One of the perks of working in radio.. I get to meet incredible and famous people! This past summer I met four Republican Presidential candidates. Today, I met another: Republican Presidential Candidate and Kentucky Senator Rand Paul. Being the producer for the Dan Mason Show, I set up the interview for Dan on KKOH with the Senator's team last week (thanks, Eleanor!), as the "last Republican Presidential debate of the year" was held in Las Vegas last night and they were in Reno today.
After the interview, I opened the studio door to make sure Dan was getting his photo with the Senator and I was ushered in so I could get my photo with the Senator as well. Senator Paul reaches out to shake my hand and as we are shaking hands he asks me, "So, you're from Canada?" To which I reply "yes", because we moved back to Nevada from Canada, but I was not born there. He then says to me (paraphrasing), "I don't take pictures with Canadians" (or something to that effect). I was off-guard and I quickly explained that I was born in the US and am an American! Haha! As you can see, he was just having some fun, being a little sarcastic with me. You'd think I'd recognize sarcasm!
While Senator Paul is a Republican, like his dad he is more Libertarian, and I can honestly say that of all the candidates, my libertarian views align more with Senator Paul's than the others.