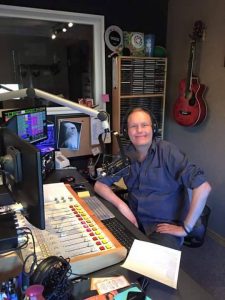 Some of you already know that a friend of mine, Greg Thomas, passed away last Saturday after a long bout against cancer. I want to share some memories I have of him. If you also knew him, feel free to share your memories here in the comments.
I met Greg in Reno, Nevada in 1998 when I started working for Citadel Communications as the Production Manager. It was a four station cluster. I would assign commercials for him to produce and/or dub. I didn't realize it at the time but our paths had crossed, albeit briefly, in Salt Lake City a couple years before. A year or so into my gig there at Citadel, I was listening to old air checks I had. One was of me doing a traffic report for Metro Traffic in Salt Lake City in 1996 or early 1997. It was weekend traffic and Greg was the jock at the station. I was doing the traffic reports from Metro's studios in a different location so we never saw each other. I bundled the report but Greg got me through it with professional ease. I had him listen to the tape and we had a good laugh. He was always up for a good laugh and made the situations that created those fun moments.
Another fond memory is that he loved doing "spoof spots". For those unfamiliar, a spoof spot is making a fake commercial. Sometimes with real clients, sometimes fake ones. One time I assigned him a commercial to produce for "The Vertical Blind Company". He wasn't up for doing the actual commercial right away. He wanted to get his creative juices going so he did a spoof spot first. He recorded a spot for the "Blind Date Company". But it wasn't about have a traditional blind date with someone your friends hook you up with… It was about having dates with blind people. But not just any blind people. The fake ad was about being able to go on dates with blind celebrities like Stevie Wonder, Ronnie Milsap, Ray Charles and Helen Keller (it was not a real commercial). It was really funny, before being PC became all the rage. He had a lot of fun with it. But the funniest part for me happened the next day. Greg came in to work with an eye infection. I said to him "Wow, talk about Karma". He only needed a brief moment to know what I was getting at; we were kindred spirits. He said he would never do anything like that again. And we had another of many laughs.
Rest in Peace Greg… we miss you here but I know if there is a radio station in Heaven God will have you entertaining everyone listening to it there. And one day, we'll get to make spoof spots again.